Archives
Turned 28 today — that's truly hard to believe. I think I can feel the arthritis setting in already. Soon, I'll be eating dinner at 4:30 p.m. and playing bingo in church basements.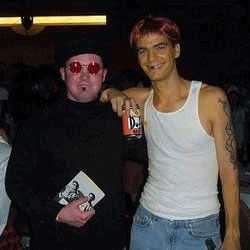 After work, I joined my friend Todd in going to our second annual Henri David Halloween party, a huge costume party in Center City. I went as a beatnik, sporting a black beret and turtleneck, tinted round glasses, and a copy of On the Road by Jack Kerouac, while Todd dressed as Cletus the Slack-Jawed Yokel from The Simpsons, complete with yellow body paint and a Duff beer can.
Just like last year, we met Ed Rendell, who was running for governor in Pennsylvania (and won the election a few days later). His appearance was probably just part of his campaign strategy, but I've gotta give him credit for showing up at this party.
The costumes and environment didn't really seem as outrageous and irreverent as last year. Either the crowds at these parties are gradually getting tamer, or maybe I'm just less surprised by people trying to shock each other.
[ No. 30 ]
Saw Bob Mould perform his second Philly show of the year at North Star Bar. No big video screens like his "Carnival of Light and Sound" show at the Trocadero in April; just loud, inspired rock. He also played several new songs that will appear on his spring 2003 release, Body of Song — can't wait!
[ No. 29 ]
Attended my 10-year high school reunion at Archmere Academy. Hard to believe that it's been a full decade since the days of cross country meets, proms, band practice, and those dreaded AP tests.
Had a great time catching up with everyone, but I was a bit disappointed that we didn't hear any sordid stories involving weddings in Vegas or brief prison terms.
[ No. 28 ]

Watched Garrison Starr perform an engaging set at The Point in Bryn Mawr. Even had the privilege of meeting her after the show and getting a personally autographed CD.
Looking forward to seeing her play again in Philly next month. Her latest CD, Songs from Take-off to Landing, is great, by the way — check it out.
[ No. 27 ]
Photo credit: Garrison Starr
Made my first visit to Chicago along with my friend Jeff and his sister's family.

Toured the Frank Lloyd Wright Home & Studio in Oak Park — fascinating example of Prairie style architecture (see photo at left). Also viewed the Chicago skyline from the 94th-floor Hancock Observatory and ate "cheezborgers" at the Billy Goat Tavern (which inspired the classic Belushi skit on Saturday Night Live — "no Coke, Pepsi"). Finally capped off an action-packed day with a great party in Lincoln Park.
On Saturday, joined a fun group of Jeff's college buddies at the Northwestern/Ohio State game. The Wildcats certainly had their chances (and were cheated out of a touchdown by those blind Big Ten refs), but the Buckeyes prevailed, 27–16.
[ No. 26 ]
Photo credit: Frank Lloyd Wright Preservation Trust