You've arrived at monorailmike.com, the personal website of Mike Devine since 2001.
I'm a proud husband and father, and yes, I once drove the monorails at Walt Disney World. And here's more about me.
What's new?
Oct. 12, 2013
I don't usually write about Penn State football games that I've merely watched on TV, but I'm making an exception for my alma mater's extraordinary game against Michigan this year.
First, let's revisit the last time Penn State played Michigan, back in 2010. In an exciting night game on Halloween weekend, the Nittany Lions won, 41–31, and I'm still grateful to have attended that game in person. It was their third straight victory over the Wolverines, which was a welcome trend after the misery of losing to Michigan nine times in a row between 1997 and 2007. And since Michigan would fall off PSU's schedule in 2011 and 2012, I also enjoyed the fact that Penn State's winning streak would remain intact during the three-year hiatus between the teams.
That last PSU/Michigan game in 2010 took place just over a year before the horrifying Sandusky scandal broke. After the brutal NCAA sanctions were handed down last summer, I expected to see a scholarship-depleted Penn State return to its previous losing ways to Michigan (as well as many other conference foes) when the series resumed in 2013.
Well, things didn't quite turn out that way.
Joan and I brought our son Michael to the Fox and Hound in King of Prussia to meet up with a large group of PSU friends to watch part of the game, and we caught the rest of the game on TV at home. We were excited to see Penn State take a promising 21–10 lead into halftime, but the momentum shifted toward Michigan in the second half and the situation looked pretty bleak.
How bleak? Penn State trailed Michigan, 34–27, with 50 seconds left and no timeouts remaining, and needed to gain 80 yards to just tie the game. Thanks to a phenomenal drive by freshman QB Christian Hackenberg, the Lions did just that — with 23 seconds to spare! Allen Robinson's leaping catch that set up the tying touchdown is simply amazing.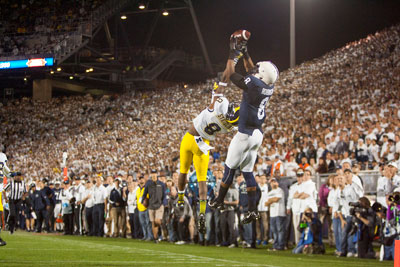 Michigan still managed to attempt a long field goal before regulation but missed. The teams battled through four overtimes, and the Wolverines had two more chances to win the game with a field goal, but one was blocked and they simply missed another one! Thanks to some gutsy play-calling by coach Bill O'Brien in the fourth overtime, Penn State answered Michigan's field goal with a touchdown and finally won, 43–40, sending Beaver Stadium into a frenzy.
I wish I could have seen such a memorable win in person. I'm not sure what was more unlikely — PSU completing an 80-yard drive that knotted the score with less than a minute to go, or Michigan squandering three chances to win the game with a walk-off field goal. Either way, it's exactly the kind of close contest that Michigan usually finds a way to win against PSU (e.g., an overtime loss in 2002 and a last-second defeat in 2005) and many other opponents. So I'll indulge in a little schadenfreude and admit that it's very satisfying to see the Wolverines get a taste of their own medicine for once.
Penn State's quadruple-overtime win over Michigan now stands as the longest game in both PSU and Big Ten history. I have a feeling that we'll be talking about this one for years to come.
[ # 652 | Link ]
Image credit: Michael R. Sisak
Oct. 6, 2013
Less than seven months after seeing Fountains of Wayne with my friend John at World Cafe Live in Wilmington, I was pleased to learn that the band was planning to return to the Philly area for another show. But this time around, they also brought along two terrific opening acts, Evan Dando (of the Lemonheads) and Soul Asylum, and all three would perform at a brand-new venue, The Ardmore Music Hall (the former site of a popular Main Line bar called Brownie's 23 East).
My friend Paul joined me for this show, and we began our Sunday evening with a delicious dinner at Primavera Pizza Kitchen, a stylish Italian restaurant that's housed in a massive former bank building. From there, we walked just two blocks to the new venue, which we both liked immediately. It's an intimate setting for live music with a decent amount of seating, a great drink menu, and even good table service.
We grabbed a high-top table at the back of the seating area and enjoyed all three acts. Evan Dando played a rather subdued set accompanied only by his electric guitar, and some of his deadpan lyrics really cracked us up. Soul Asylum was a pleasant surprise — I only have a copy of Grave Dancers Union from my college days, and that album never really grabbed me. But they joyfully ripped through a raucous set, and I definitely have to revisit some of their music.
Fountains of Wayne put on yet another energetic show, drawing heavily from their latest album, Sky Full of Holes, along with plenty of old favorites.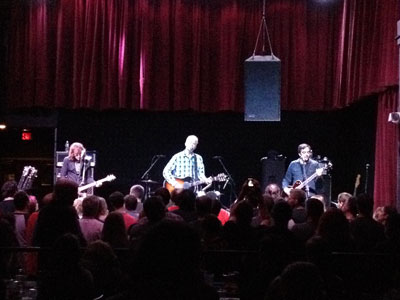 Prior to their performance, I noticed that the merchandise table had some terrific shirts in a good variety of sizes (which happens pretty rarely), so I splurged and bought two of them!
I'm always amused by the improvised one-liners from the band, too. At this show, a fan near the stage raised his hand and made a devil horns gesture during the somber ballad, "Hackensack." In response, lead singer Chris Collingwood quipped, "I think that's the first time ever that someone threw the horns at that song."
Such a great band, and one that doesn't take themselves too seriously.
[ # 651 | Link ]
Sept. 29, 2013
Several years ago, I was surprised to receive an e-mail from a man also named Mike Devine.
Mike explained that he had run into a strange post–9/11 problem — for reasons unknown to him, Mike's name had been added to the TSA watch list. He ran a search on his name along with a few terms related to airport security, and found this very blog among the search results. I forget the specific post that had inspired him to write to me, but it was most likely the one about my unexpected airport hassle in 2005 or my follow-up post from later that year. Either way, I do recall that Mike had also written that he enjoyed reading the rest of my site, and I was pleased to hear from him.
A few years later, Mike found my profile on Facebook and added me as a friend. Mike and I occasionally exchanged messages or comments, much like modern-day pen pals. Then, shortly before Joan and I were married last year, Mike and his family mailed us a really thoughtful gift — a French press from our registry at Crate & Barrel. We were both astounded by such generosity from someone I'd never met in person, and we thanked him for his kindness.
Mike contacted me again earlier this month, saying that he was going to be in nearby Conshohocken for a conference, and asked if I would be interested in meeting up. Given our pleasant exchanges over the years, I agreed. We met up for a Sunday night dinner at an outdoor table at the Great American Pub, and he even brought along a children's book for Michael (who happens to also have the same name, too!).
I know what you're thinking — what's this guy's angle? Was he trying to sign me up for financial planning or a new insurance policy? Quite simply, the answer is no. Mike just happens to be an incredibly nice guy who thought it might be fun to meet in person. We talked at length about our families (Mike is married with two young children and recently moved from Long Island to a Chicago suburb) and our respective careers (he's an engineering manager for a magnetics company that works on some really interesting projects).
Perhaps it's an East Coast mindset, but it's easy to be skeptical of people and assume that their motivations are self-serving. But Mike proved to me that there are some genuinely thoughtful, friendly people in this world. I'm fortunate to have finally met him in person, and I really hope we can catch up again in the near future.
[ # 650 | Link ]
Sept. 20–22, 2013
Time for another pilgrimage to Happy Valley with my old college friends!
Friday. While Joan worked until noon and Michael spent the morning at day care, I ran a bunch of errands in preparation for the trip. By early afternoon, we dropped Michael off at my parents' house for what they affectionately called "fall camp." Joan and I shared a late lunch at a McDonald's on Route 100, then fought some moderate traffic en route to State College.
We checked in at the Quality Inn, where we booked a separate room (without sharing with another couple) for the first time. We then met up with Marc, Sarah, Steve, and Crystal at Cafe 210 West. (Unfortunately, Brian and his wife Michelle had a conflict with a wedding this year.) After some outdoor drinks, we enjoyed a casual dinner at the Corner Room, and surprisingly, we didn't even wait very long for the table.
As we were paying our check at the front of the restaurant, I noticed a hand-painted wooden sign that read:
HAEC OLIM MEMINISSE JUVABIT
I remembered it from my college days but had never known what it actually meant. A quick Google search on my iPhone informed me that it was a Latin phrase from the Aeneid and roughy translates to "Perhaps someday it will help to have remembered even these things" — a fitting phrase for a college town.
After dinner, Joan and I stopped by the Rathskeller, where we waited to meet up with some other Philly-area friends who were in town, but wound up calling it a night after just one round of beers, and before the group even arrived. (C'mon, cut us some slack — we're still new parents!)
Saturday. Our group of six reconvened for breakfast at the hotel, then consolidated our food and drinks into two SUVs before proceeding to the tailgate fields north of Beaver Stadium. We set up two tents, and Steve even set up a few side walls to block out the intermittent rain. Between eating lots of delicious food and telling old stories, Joan and I left the group and took a walk to visit her colleague, Dr. Finnegan, at his group's tailgate.
As the six of us entered Beaver Stadium, the rain began to intensify, much to our collective dismay. We stayed through three soggy quarters of the Nittany Lions' 34–0 win over Kent State, then drove back to the Quality Inn for a much-needed hot shower and a change of clothes. Our night concluded with our traditional dinner at the Tavern, which was as good as ever.
Sunday. Our group reconvened for breakfast at the Waffle Shop across the street from the hotel. We said our goodbyes, then Joan and I did some shopping downtown, where I bought a new Allen Robinson jersey (which happens to feature my lucky number, 8). We also stopped by the Creamery for some ice cream (including the all-important half-gallons to take home). On the way home from Happy Valley, Joan and I drove directly to my parents' house, where we were delighted to see our little boy again and shared a great dinner with the family.
[ # 649 | Link ]
Sept. 14, 2013
The Chesterbrook Village Center, a shopping center in our suburban neighborhood since 1981, is now in foreclosure. This shouldn't come as a surprise to even the most casual observer in Chesterbrook, but it's sad nonetheless.
According to a troubling article in the Philadelphia Business Journal, the shopping center has fallen on hard times since its owners took out a $10.5 million loan in 2004. Over the nine years since, over 90% of that original loan amount remains, and the shopping center's property value has decreased by over two-thirds during that same period.
When I moved to Chesterbrook in 2004, the shopping center seemed to be doing reasonably well. The anchor tenant, a Genuardi's supermarket, was tremendously convenient and consistently busy. I had a few pictures framed at the Village Art Gallery and stopped by Shuler's Jewelers to get my watch battery replaced. One storefront in the back of the outdoor plaza housed a different restaurant about once a year — but then again, restaurants quickly come and go pretty much everywhere.
Thanks to a lengthy and painful recession, as well as a general disdain for anything less than a million-square-foot megastore, the medium-sized Genuardi's closed in August 2010, much to my dismay. The cavernous building has remained empty over the three years since, and that glaring vacancy has accelerated the demise of the rest of the shopping center. The Village Art Gallery relocated to the nearby Gateway Shopping Center and eventually closed for good, while the family-run Shuler's closed in 2009 after nearly 30 years in business.
To be fair, some stores have managed to stick around — I still go to Rite Aid, Subway, and Manhattan Bagel once in a while. But compared to many other bustling strip malls in the area, the Chesterbrook Village Center is depressingly desolate, even though it's located in the middle of numerous townhouse communities and down the street from a busy corporate center. Given its prime location, I'm simply baffled by its decline.
I can only hope that a new developer can help to bring the shopping center back to life, but I'm not holding my breath.
[ # 648 | Link ]
Aug. 11, 2013
Our son Michael is now officially a member of the Catholic Church.
On the day before his baptism, Michael's godparents, Joan's sister Laura and her fiancé Jeremy, came down from Brooklyn to stay with us. We enjoyed a relaxing Saturday afternoon together chatting around the dining room table, then went out for a casual dinner along with Michael at Christopher's in Wayne.
The morning of Michael's baptism ceremony turned out to be a carbon copy of our wedding day — comfortable with plenty of sunshine and blue skies. Fr. Carl Braschoss presided over the 11 a.m. Mass at St. Norbert, the same church where Joan and I were married last year.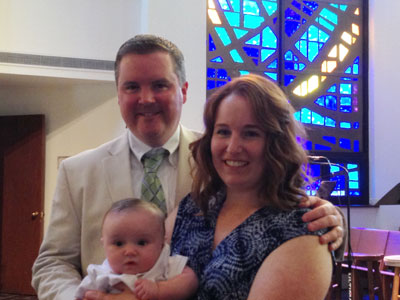 Michael behaved quite well throughout the hour-long liturgy and was baptized along with one other child — a one-year-old named Hunter, who happened to share the last name as my mom's maiden name!
After the Mass, we drove to the Desmond Hotel in nearby Malvern, where we had booked the Terrace Room on the third floor for a luncheon with about 25 relatives and friends. The event got off to a slow start, since only one server had to do almost all of the work (but did a great job under the circumstances). Still, our families and close friends enjoyed the Sunday afternoon gathering over a delicious meal.
Congratulations, Michael!
[ # 647 | Link ]
July 24, 2013
Some recent observations:
1. With just a few weeks to go before our son's baptism on Aug. 11, Joan and I urgently needed to get the invitations printed and mailed to our family and a few close friends. A custom online order would have taken too long, so I bought lovely printable invitations from Paper Source, but struggled with multiple printers to get the text printed correctly. Thankfully, last week, a FedEx Office store near my office came through with perfect color printing in just a few hours.
2. I registered my home phone on the Do Not Call registry years ago, and yet we still receive at least one or missed calls on any given weekday. And when the caller ID literally reads SPAM, I'm almost grateful for the telemarketer's honesty. Almost.
3. I'm still savoring the good news that my monthly SEPTA trailpass is actually less expensive than before, thanks to some recent zone changes among numerous train stations in the Philly suburbs. Specifically, my regular station, Devon, was reassigned from Zone 4 (previously $176 each month) to Zone 3 (now $163). Hey, I'll take it!
[ # 646 | Link ]
July 3–7, 2013
What better way to celebrate a long Fourth of July weekend than with our family in Stone Harbor (once again)?
Joan, Michael, and I packed our bags and left home very late Wednesday night for the four-day weekend. We enjoyed a relaxing Fourth of July together with a cookout at home, then watched the distant fireworks over Wildwood from the convenient location of our front deck.
After an early feeding on Friday morning, we went to Polly's Place on Third Avenue for breakfast with a beautiful view of the bay, and Michael behaved wonderfully as usual! While in town, we bought a new Sport-Brella at one of our favorite stores, Seashore Ace. We tried it out for Michael's first full-fledged day on the beach later that day, and thankfully, it was very sturdy and provided plenty of shade for our little guy: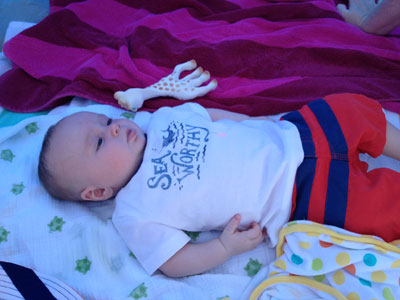 Later that evening, the three of us visited our friends Laurie, Mike, their son Shane, Melanie, Greg, and their daughter Maddie for a casual outdoor dinner at their rented house on 38th Street in Avalon. We followed that up on Saturday night by introducing Michael to dinner at Marabella's along with my parents and sisters. (How quickly we've become a party of seven!)
Our weekend was slightly marred by a difficult ride home. Due to heavy traffic, we opted to take some back roads toward Route 322, where I was pulled over by an unsympathetic cop and given a ticket for failing to use my turn signal (!) in a confusing stretch of road. Later in the trip, we had to stop for a while in a Wawa parking lot for a feeding and diaper change. The entire journey home took 4 hours, 20 minutes, and all of us were pretty worn out by the time we arrived home.
Still, we really enjoyed having a few days off at the beach, and I think Michael is starting to become a big fan of Stone Harbor already!
[ # 645 | Link ]
June 14–16, 2013
A few weeks after Michael's first trip to Stone Harbor for Memorial Day, we returned to the Jersey shore for my very first Father's Day!
My parents and sisters joined me and Joan in taking Michael out to his first meal at a restaurant on Saturday night. I'll admit that I was concerned about how he would handle it, but Michael enjoyed a peaceful nap during most of our delicious meal at Ristorante Luciano on Third Avenue.
On Sunday morning, Joan surprised me with Michael's newest summer outfit, comprised of a Hawaiian shirt, bucket hat, and an adorable blue onesie that read, HANDSOME LIKE DADDY:
Our family enjoyed a relaxing brunch, and I received several thoughtful gifts for my first Father's Day, including a sharp-looking navy Polo shirt. Joan and I also took Michael for his first walk on the beach, and even dipped his toes into the chilly ocean at the water's edge.
For many years, my family has always enjoyed honoring my dad on Father's Day at the shore, and I'm so grateful to count myself as a father now, too!
[ # 644 | Link ]
May 25–28, 2013
As our son approached his two-month birthday, Joan and I embarked on our first big adventure as a family — bringing him with us to visit with my family in Stone Harbor, N.J., for Memorial Day weekend!
Michael stayed with Joan and me in a second-floor bedroom at my parents' house and slept in a Pack 'n Play crib that we'd brought along. We decided against bringing him onto the beach just yet, but he seemed to adjust well to the new surroundings overall. And while Joan and I had been accustomed to sleeping in during weekends at the shore in previous years, we also needed to quickly adjust to getting out of bed much earlier (around 6 a.m.) for Michael's first feeding each day.
On Saturday night, my parents offered to watch Michael while Joan and I went out to dinner. We opted for the Windrift Hotel, which had been completely remodeled just last year. We even managed to snag the very first parking spot in the huge lot — on a holiday weekend, no less! Joan and I enjoyed a delicious dinner in the main dining room, then had some drinks on the second-floor beachfront deck, where we were treated to a perfect view of a full moon rising over the ocean.
Times have certainly changed since my days in a group shore house, but in a very good way.
[ # 643 | Link ]
What's not so new?
Want to read more? Check out the archives!