Welcome!
After nearly a decade since the last significant redesign of this website, I've finally launched a brand-new version of monorailmike.com!
This latest design includes a wider layout, improved typography, and more consistent formatting throughout. Behind the scenes, I've continued to hand-code all of the pages that comprise the site, but I've upgraded the markup so that it's much easier for me to maintain. I've also added several new blog posts from the past few months that we were long overdue.
If you're interested in learning more about how I've rebuilt the site, check out the updated colophon for details.
I'm really proud of the site's new look, and I'd love to hear your feedback!
[ No. 669 ]
After dropping off Michael with Joan's family for the weekend, Joan and I drove to State College for our annual get-together with old friends at Penn State.
We arrived in town by mid-afternoon on Friday, and started our weekend by browsing through old yearbooks at the Hintz Family Alumni Center on campus. At around 6 p.m., Joan and I met up with Marc, Sarah, Steve, and Crystal at Simmons Hall to watch the homecoming parade, thanks to a complimentary event sponsored by the Schreyer Honors College. Later in the evening, we skipped the crowded bars and opted to hang out at Marc and Sarah's rented RV in a tailgate lot near Beaver Stadium.
Our group reconvened on Saturday morning at Irving's on College Avenue for some breakfast sandwiches and coffee, dropped off some things at the RV, and headed into the stadium for the game. As Joan and I slowly roasted under the blazing sun, we were surprised to watch Northwestern shake off its early-season woes and thoroughly embarrass Penn State, 29–6. It was the worst home loss for the Lions since a season-opening blowout against Miami in 2001, and I witnessed that debacle in person, too.
Despite the miserable game, we still enjoyed a leisurely tailgate back at the RV. Here's the whole gang: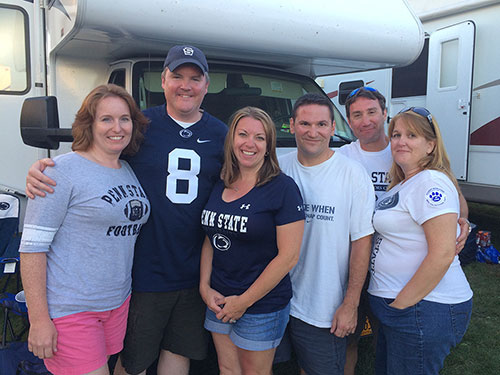 As the evening approached, the six of us rode a Campus Loop bus into downtown State College for our traditional dinner at the Tavern. We were seated at a table by the front window, and my friends Kristen, Suzanne, and Amy also stopped by for a few minutes to say hello.
On Sunday, we met up for a hearty breakfast at Denny's and shopped downtown before happily reuniting with Michael in Slatington on our way home.
[ No. 668 ]
Joan's mom, Alicia, was going to celebrate her 60th birthday during Labor Day weekend this year, so Joan and Laura treated her to a beach-block rental house in Beach Haven, N.J., on Long Beach Island.
Joan, Michael, and I met up with Alicia, Laura, and Jeremy from Saturday through Tuesday, and Alicia planned to spend the rest of the week with some of her friends. We took Michael to the beach and a playground facing the bay, embarked on a short day trip to Barnegat Lighthouse State Park, and enjoyed a birthday dinner at a terrific seafood restaurant called The Ketch.
Happy birthday, Alicia!
[ No. 667 ]
Joan, Michael, and I hit the road again, this time for a low-key weekend stay at Joan's family's mountain house in north-central Pennsylvania.
On Saturday, we shared some home-cooked meals on the back porch, took a day trip to the scenic High Knob Overlook and Worlds End State Park, and relaxed with margaritas by a roaring fire pit in the backyard on Saturday night.
Michael enjoyed spending time with everyone and loved running through the wide open backyard. However, sleeping in the same bedroom as him proved to be a challenge, and Joan and I were up with him on Saturday night for long stretches of time.
We made a brief visit to historic Eagles Mere for some shopping on Sunday, then made our way home.
[ No. 666 ]
Here are some highlights from our latest vacation in Stone Harbor, N.J. — which was our first weeklong trip "down the shore" since 2011, back when Joan and I were still engaged!
We kicked off the week with an early Saturday evening dinner at one of our favorite restaurants, the Lobster House in Cape May. I enjoyed the chance to wear my new lobster Polo shirt that I received for Father's Day, too!
From Monday through Thursday, my parents went back home so that Joan, Michael, and I could spend a few days on our own, and we were blessed with gorgeous weather. Our daily ritual involved going to the beach in the morning, then getting Michael bathed and changed into a comfortable onesie before his lunch and a long afternoon nap.
On Tuesday afternoon, the three of us drove north to Ocean City, where we enjoyed a casual dinner at Kessel's Korner and took Michael on the merry-go-round and Ferris wheel at Gillian's Wonderland Pier on the boardwalk. His excited response to all of the bright lights and sounds: "Ooooh!"
After my parents were back in town, we all went to the Stone Harbor Volunteer Fire Company for an open house on Thursday evening. Michael loved seeing all of the fire trucks, and even received a new fireman helmet!
Toward the end of the week, Joan's close friend Megan stayed with us for two nights. We enjoyed a delicious dinner at SAX at the Reeds, followed by drinks on an outdoor balcony at the Windrift.
Upon our arrival back home in Chesterbrook, our neighbor Don helpfully pointed out a sidewall bubble in one of my Altima's tires. (Thankfully, we had taken Joan's CR-V on vacation instead.) So, we called AAA on Sunday evening to install a donut, then had the tire replaced on Monday. Not much fun after a great vacation, but certainly preferable to a blowout while driving!
[ No. 665 ]
Joan and I had heard from several people that Adventure Aquarium in Camden, N.J., was a great place to take kids — even little ones as young as Michael, who's only 15 months old right now. And they were absolutely right.
We had a terrific time taking Michael to the aquarium on a late Saturday afternoon. Their new Hippo Haven exhibit was exciting — we could see the hippos both on "land" during feeding time and under the water. And Michael was mesmerized by the sight of colorful fish and sharks swimming by. I just love this silhouette of him: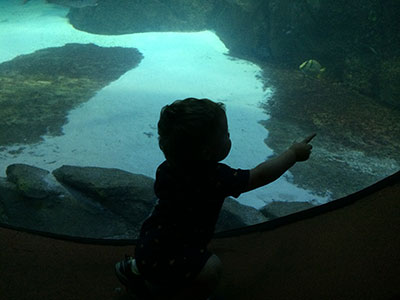 As dinnertime approached, the three of us drove back across the Ben Franklin Bridge into Philadelphia, where we went to Jones, a family-friendly Stephen Starr restaurant, for a comfort-food meal. Since Michael usually expects to eat as soon as we sit down, I took Michael for a walk to nearby Washington Square while our order was prepared. And the food was just as delicious as it was during our previous visit with Joan's friend Maura in March.
[ No. 664 ]
I've only attended one technology conference over the past several years, so I was really looking forward to attending RallyON 2014, an agile conference sponsored by the software company Rally, in Washington, D.C.
On Sunday afternoon, I said goodbye to Joan and Michael, then drove to 30th Street Station to catch an Amtrak train to D.C. The ride was comfortable, but several delays that added up to 90 minutes turned the door-to-door trip into a five-hour journey. After a short Metro ride from Union Station, I walked a few blocks to the Grand Hyatt hotel and checked into my room.
RallyON was very well-organized. We were provided with a useful mobile app that allowed me to build a personalized schedule of sessions, exchange my contact information with other attendees, and even post my feedback at the closing retrospective. The sessions were very informative, too — I particularly enjoyed a keynote address by Dan Heath (co-author of Decisive: How to Make Better Choices in Life and Work) and a practical session on limiting a development team's work in progress (an evergreen challenge in my line of work).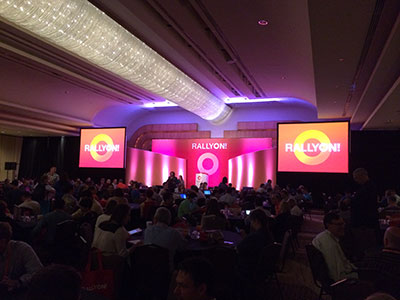 The most unique aspect of the RallyON was a format called Open Space. Attendees could post topic proposals in the RallyON app for others to vote on, and the most popular ones would be scheduled on during two afternoons. I went out on a limb and posted the topic of realistic capacity planning, and surprisingly, I received the second-most number of votes out of dozens of proposals! I stayed up late in my hotel room on Monday night building slides and preparing notes for the discussion, and my presentation on Tuesday afternoon to about 20 people went very well.
During my visit, I also met up with my friends Larry and John for dinner at Capitol City Brewing Company across the street from the hotel. And by Wednesday night, I was very happy to arrive home — I had really missed Joan and Michael while I was away. But I'm also thinking of attending RallyON next year — lots of great information and people!
[ No. 663 ]
Archives
For posts dating back to 2001, please proceed to the Archives section.