Welcome!
Joan and my friend Paul joined me in going to see Cracker perform at World Cafe Live on a bitterly cold Saturday night in Philadelphia. The show was in support of Berkeley to Bakersfield, the band's 2014 double album that contains one rock and one country disc each.
After a quirky set by frontman David Lowery's other band, Camper Van Beethoven, Cracker put on a terrific show. In fact, they sounded as good (if not better) as the first time I saw them perform at the Trocadero in 2002.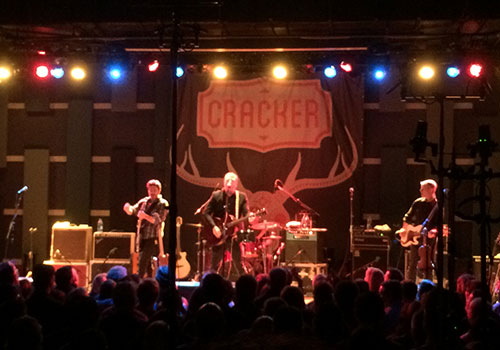 The setlist contained one of my all-time favorites (the hilarious "Mr. Wrong"), eight tracks from their latest release (including the haunting "Almond Grove"), and a blistering jam-band encore:
Torches and Pitchforks*
Dr. Bernice
Hey Bret (You Know What Time It Is)
Almond Grove*
Where Have Those Days Gone*
California Country Boy*
King of Bakersfield*
Low
Teen Angst (What the World Needs Now)
Mr. Wrong
El Comandante*
El Cerrito*
Gimme One More Chance
Beautiful*
Sweet Thistle Pie
St. Cajetan
Encore:
One Fine Day
* New track from Berkeley to Bakersfield
After the show, I even had a chance to meet the band members and get a limited-edition poster signed by them!
More details about the concert are available in an online review by XPN.
[ No. 678 ]
In mid-December, I noticed that the SERVICE ENGINE SOON light had appeared on the dashboard of my 2005 Nissan Altima. After I dropped it off at the dealership for service, they informed me that the car's catalytic converter would need to be replaced before its next inspection was due in April, and the repair would cost over $1,100.
Initially, I just wanted to get the Altima fixed and deal with the decision about a new car in the spring, but thankfully, Joan and my parents all persuaded me into declining the costly repair. So, during my week off after Christmas, I did some research and test-drove a few cars before selecting a blue 2015 Honda Accord EX-L with a gray interior!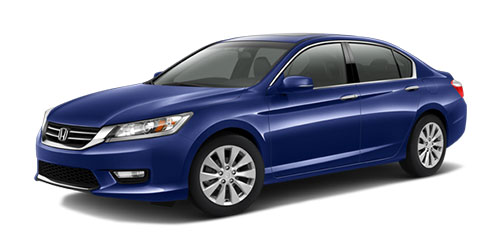 Instead of purchasing the Accord, I opted for a three-year lease in order to prevent taking on additional debt prior to buying a new house (hopefully later this year). And the trade-in for my Altima meant that I could start the lease with no down payment!
My gray Altima was a great car. I still remember the night I bought the Altima in early 2005, and its final odometer reading of 110,788 miles included dozens of trips to the Jersey shore, several ski trips to the Poconos, and even my first date with Joan! I dealt with only one significant mechanical problem in 2007 and only one accident, a frightening collision with a deer, in 2011. The Altima was a reliable, trusty companion for nearly 10 years, and I was a little sad to leave it behind.
However, I also have to admit that it's pretty great to drive a new car for the first time in almost a decade.
[ No. 677 ]
Image credit: Honda
This year, the Christmas season gave us an additional reason to celebrate — the wedding of Joan's dad, Bob, and his fiancée, Cathy!
On Friday afternoon, Joan and I drove up to Bob and Cathy's house in Slatington, Pa., where we joined their extended family for a cocktail party in the evening. Thankfully, Michael slept very soundly overnight, and we all exchanged presents the following morning. By mid-afternoon, Joan and I packed the car and drove Michael to the Country Inn & Suites in nearby Lehighton, where the three of us checked in.
Getting ready for the wedding on the evening of Dec. 27 — including getting Michael dressed in his first rented tuxedo — was a scramble, but we were still among the first to arrive at the Mahoning Valley Country Club. The ceremony was lovely, and Michael performed his duty as ring bearer very well! The reception and dinner immediately followed the ceremony, and the excellent live band provided plenty of opportunities for Michael to dance.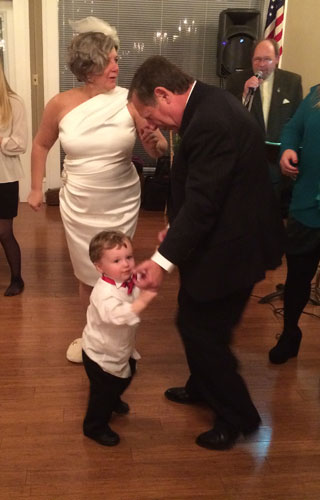 We all slept very well on Saturday night, and made our return home on Sunday after brunch at the hotel. Congratulations to Bob and Cathy!
[ No. 676 ]
Penn State's 2014 football season is over, and it's been a rough one. The Nittany Lions started out with a promising 4–0 record, but lost six of their last eight games to finish 6–6, their worst record since the dark days of 2004.
Thanks to a surprising reduction in NCAA sanctions in September, those six wins make the Lions eligible to play in a bowl game*. However, PSU truly earned its disappointing .500 record by finding new and creative ways to lose winnable games this year. Penn State suffered a surprising 29–6 blowout to Northwestern on homecoming weekend, a heartbreaking 31–24 double-overtime loss to 13th-ranked Ohio State that was marred by horrendous officiating (even with instant replay!), and a narrow 16–14 defeat to Illinois, which had only won 2 of its previous 22 games against Big Ten opponents.
But above all, I'll remember the 2014 season for the debut of the Big Ten's newest two teams, Rutgers and Maryland, both of which made a poor first impression in their games against Penn State this year:
Rutgers. During interviews prior to the game, Rutgers coach Kyle Flood cryptically referred to Penn State as "that team from Pennsylvania." Flood never fully explained why he refused to utter PSU by name (as opposed to his other new opponents in the Big Ten), but his behavior struck me as insecure and disrespectful, especially for someone who should set an example for his players. Even worse, many Scarlet Knights fans brought offensive T-shirts and signs to the game, and Rutgers compounded the problem by posting photos of them on its official Facebook page. The pictures were eventually taken down.
After all of that hostility, I was very satisfied to see Penn State get some revenge on the field with a 13–10 win in front of a record Rutgers home crowd.
Maryland. At the outset of the game at Beaver Stadium, three Terrapins team captains refused to shake hands with their Penn State counterparts: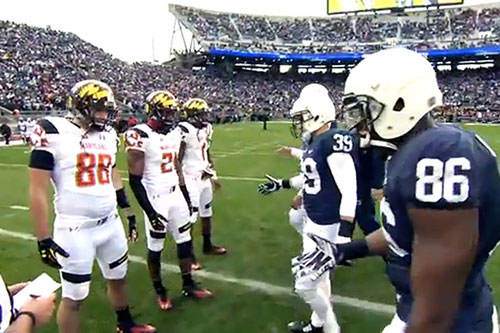 One of those Maryland captains, Stefon Diggs, even shoved a referee during a pre-game skirmish. The handshake stunt resulted in a $10,000 fine for Maryland coach Randy Edsall (who later offered a tepid apology), the shove eventually led to a one-game suspension for Diggs (which should have been an immediate ejection), and both incidents were reprimanded by the Big Ten. But unlike the Rutgers game, Penn State suffered a bitter 20–19 loss to Maryland, thanks to a last-minute field goal.
* * * * *
In the wake of these incidents, the athletic directors from Rutgers and Maryland both issued a apology to Penn State. Honestly, I can't recall the last time that an opposing team needed to formally express regret for its actions, let alone twice in a single season. But since both Rutgers and Maryland are located geographically close to Penn State and seem motivated to spark a rivalry with their new conference neighbor, I can only assume that both programs were quite deliberate in their efforts to "poke the bear" in their matchup against PSU.
Respect must be earned over time, and Rutgers and Maryland have demonstrated that they have a long way to go in that department. But if their goal was to provoke Penn State fans like me, both programs have succeeded in their mission. Rutgers and Maryland have joined the ranks of the few teams that I genuinely hate, and from now on, I hope Penn State soundly defeats them year after year — while maintaining a high level of sportsmanship, of course.
---
* Update: Penn State managed to end their season on a high note in the New Era Pinstripe Bowl, which was played in Yankee Stadium. The Lions came back from a 21–7 deficit in the third quarter and captured a dramatic 31–30 win in overtime against Boston College.
[ No. 675 ]
Image credit: ESPN
To celebrate Joan's birthday, we spent a wonderful day out in Philadelphia!
In the late morning, we dropped off Michael at my parents' house for the day — he always loves spending time with his "Papa" and "Mama." After parking downtown, we walked to Tria, a cozy place on 18th Street, for a light lunch and some wine.
We then made our way over to the Mütter Museum, which contains a unique collection of medical oddities, and a place that Joan and I had been meaning to visit for years. The exhibits were both fascinating and frightening — the carefully preserved organs and skeletons are a reminder of how amazingly well the human body usually functions. And I was impressed by a display about minimally invasive surgery that made frequent mention of Dr. Parviz Kambin, who happens to be a close friend of my parents!
After we left the museum, we did some shopping at Macy's (formerly Wanamaker's) and a few other stores along Walnut Street. At the end of our fun day in Center City, we enjoyed a delicious dinner at Devon Seafood Grill on Rittenhouse Square before heading back to West Chester to pick up Michael and call it a night.
[ No. 674 ]
My sister Jen knows me all too well. A few days ago, she passed along a terrific A.V. Club article, "1-2-3-4-5-6-7-8-9-10-11-12 Reasons Why 'Pinball Number Count' Is Awesome," which describes one of my favorite animated features from Sesame Street:
Introduced in 1977, everything about Sesame Street's "Pinball Number Count" screams the '70s, from the strutting music — composed by Walt Kraemer, arranged by Ed Bogas (Ralph Bakshi's go-to guy, and a member of the fantastic psych band The United States Of America) — to the groovy vocals from The Pointer Sisters, to the crazy pop art style. As the pinball bounces around from ornate bumper lamp to bumper lamp, it may as well be running through a 1977-era living room. Warm, instant nostalgia.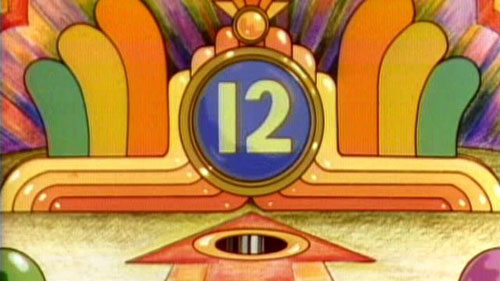 To this day, the "Pinball Number Count" series still fascinates me. I love the vivid colors and whimsical geometric forms, and the themed sequences that resemble a Rube Goldberg machine are really imaginative. The funky chorus is incredibly catchy, too — sing it with me: "One, two, three, four, five / Six, seven, eight, nine, ten / Eleven, twelve!" That melody still gets stuck in my head, and the instrumental bridges that alternate between saxophone, electric guitar, and steel drum are fantastic.
Check out the entire "Pinball Number Count" series on YouTube, as well as lots of interesting details on Muppet Wikia.
[ No. 673 ]
Image credit: A.V. Club / Sesame Street
The latest issue of Philadelphia magazine includes a terrific article called "The Right to Remain Silent" by Richard Rys. It's an analysis of SEPTA's QuietRide initiative, which bans cell phone calls and loud conversations in the first car of each train. Like me, Rys is attracted to the possibility of a brief respite from the noise pollution that surrounds us:
It's that we're all searching for a place […] where we can, for a few fleeting seconds, hear little more than our own thoughts. This isn't a nanny-state infringement of liberty; we simply yearn to catch some shut-eye to the soothing hum of the tracks or read the damn paper or judge other people's Facebook posts without interruption.
Rys correctly notes that the QuietRide program has fallen short of its goals, mostly because of SEPTA's inconsistent supervision:
The fundamental problem with the QuietRide car is that we, the people, are required to police it, and let's be honest — without enforced rules and consequences for breaking them, we're all a bunch of animals.
The QuietRide car is indeed largely self-governed, which leads to awkward situations. Some newcomers may be honestly unaware of the policy, which is understandable. But the majority of the offenders know they're in the QuietRide car, yet selfishly answer their phones or chat with their companions anyway. And no matter how politely you tell them, "Excuse me, this is the QuietRide car," they usually glare at you as if you're the one who's being rude.
Full disclosure: I'm far from perfect, and I've broken the rules myself, too! On two occasions, after failing to realize that the music on my iPod was audible through my earbuds, someone asked me to lower the volume. I apologized immediately and turned it down — what could I possibly gain from pushing back on a reasonable request like that?
These days, I still opt for the QuietRide car on my daily 7:52 a.m. commute into Philadelphia, since most people are fairly quiet in the mornings, and it's a tranquil way to start the day. But I usually opt to sit elsewhere during the more crowded and energetic 4:21 p.m. ride home — ironically because no one around me is arguing about how to behave in the QuietRide car.
[ No. 672 ]
I'm very grateful to Joan for organizing a really fun weekend to celebrate my 40th birthday!
On Saturday afternoon, my college friends Steve, Larry, and Marc arrived from out of town. They met me for lunch at the Fox and Hound in King of Prussia, where we watched Penn State lose to Maryland, 20–19. It was the fourth straight defeat for the Lions, and the unsportsmanlike behavior by the Terrapins was a disgrace — more on that later.
Later on, Larry helped me pick up some cold beer that I'd reserved at Kunda Beverage, then we helped Joan set up the coolers for the party at Devon Lanes. We started out with plenty of delicious catered food in a reserved party room, and Michael made a brief appearance along with my parents before they took him back to their house for the night.
I was very happy to see so many good friends at the party — nearly 40 people joined us for the celebration! Everyone split into groups among several lanes for some friendly competition, and I must say that I looked pretty sharp in the personalized bowling shirt that Joan had ordered just for the occasion.
After two or three games, we thanked everyone for coming, and Steve, Larry, and Marc closed out the evening at our house for some late-night drinks before heading back to their hotels. And thankfully, Daylight Saving Time ended overnight, so we were all relieved to gain an extra hour of sleep.
Our group met up on Sunday morning for breakfast at Nudy's in nearby Paoli. Unfortunately, Larry was having some car trouble, so we made a trip to a local auto parts store to pick up a new battery, and Marc and Steve saved the day by successfully installing it back at my house before everyone hit the road.
I couldn't have asked for a more enjoyable 40th birthday party, and I'm very fortunate to have such loyal and generous friends.
[ No. 671 ]
Back when I turned 30, I was amazed at how quickly my 20s had flown by. And now, on my 40th birthday, I can confirm that my 30s have come and gone at least twice as fast.
During the afternoon of my day off from work, my parents and Joan's dad met up with Joan and me at Michael's day care for his second Halloween parade. His costume as a farmer — complete with a John Deere hat, a pair of Timberland boots, and a red bandana in the back pocket of his overalls — came together really well. Much like last year, he seemed quite comfortable, and unlike most Halloween costumes, he'll be able to wear most of the clothes again, too.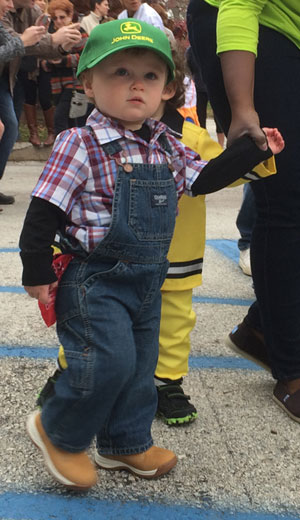 After we came home, we enjoyed a delicious dinner of chili and cornbread. For my birthday, my family presented me with a really special gift — a framed print called West on 96th Street, which was originally painted by Mary Ledwith in 1988. The artwork is a beautiful depiction of downtown Stone Harbor, and my family knew that I had admired it for years!
[ No. 670 ]
After nearly a decade since the last significant redesign of this website, I've finally launched a brand-new version of monorailmike.com!
This latest design includes a wider layout, improved typography, and more consistent formatting throughout. Behind the scenes, I've continued to hand-code all of the pages that comprise the site, but I've upgraded the markup so that it's much easier for me to maintain. I've also added several new blog posts from the past few months that we were long overdue.
If you're interested in learning more about how I've rebuilt the site, check out the updated colophon for details.
I'm really proud of the site's new look, and I'd love to hear your feedback!
[ No. 669 ]
Archives
For posts dating back to 2001, please proceed to the Archives section.