Welcome!
During this bitterly cold winter, I've taken some solace in looking forward to a fun event with family and friends. Our traditional St. Patrick's Day party — now in its ninth year and our second one with Michael following his debut last year — is hard to beat.
Joan and I have most of the party planning down to a science by now. Doing most of the shopping the day before really helps, and the catered dishes from Wegmans were as tasty as ever. The process of housecleaning and food preparation never seems to end until the first guests arrive, but everything worked out as well as we could expect.
We welcomed a slightly larger crowd than last year — about 40 people joined the festivities, and Joan and I hadn't seen many of them for quite a while. Michael clearly enjoyed all of the excitement and mingled with our friends for the first two hours, then enjoyed a full night of rest at my parents' house in West Chester.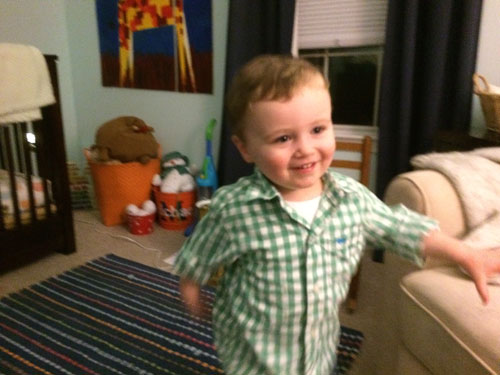 Thanks to everyone for helping us celebrate yet another special night!
[ No. 680 ]
For the first time since our Key West trip in 2011, Joan and I embarked on another much-needed winter getaway — this time to Marco Island, Florida!
Thursday. Having dropped off Michael at my parents' house the night before, Joan and I drove to the Philadelphia airport and arrived early enough to enjoy breakfast at Legal Sea Foods. (Seriously, their crabmeat omelette was delicious!) Our flight was quite pleasant, except for some painful pressure in my ears as we descended into Fort Myers.
After we picked up our rental car, a comfortable silver Chevy Impala, Joan and I made one nostalgic stop along the way. I was curious to see the apartment complex where I used to live when I worked for General Electric in 1997. I had never returned to Fort Myers since moving back to the Philly area, and it was strange to see my old place after nearly 18 years. The surrounding area seemed more congested and built-up, but the apartments had been renovated nicely and the complex even sported a new name — what I remember as the Beach Club Apartments is now called Sienna at Vista Lake.
After some heavy traffic out of Fort Myers, we took a break for a late lunch at a Five Guys before finally arriving at the Marco Island Marriott, a beautiful beachfront resort. We checked into our room on the third floor and placed a Skype call to catch up with Michael and my parents. Completely exhausted and slightly under the weather, I took a two-hour evening nap before we ordered a late dinner from room service.
Friday. Joan and I shared a light breakfast at the hotel's San Marco Café coffee shop, then arrived for our scheduled couple's massage, which was wonderfully relaxing. During the afternoon, we took full advantage of our daylong access to the spa, including its private outdoor pool and mineral whirlpool. Later in the evening, we opted for a casual dinner at the aptly named Quinn's on the Beach.
Saturday. We indulged in a terrific breakfast buffet at Tropiks in the hotel, then took a long walk along the pristine beach. We spent the afternoon on chaise lounges on the beach before watching a spectacular sunset over the Gulf of Mexico.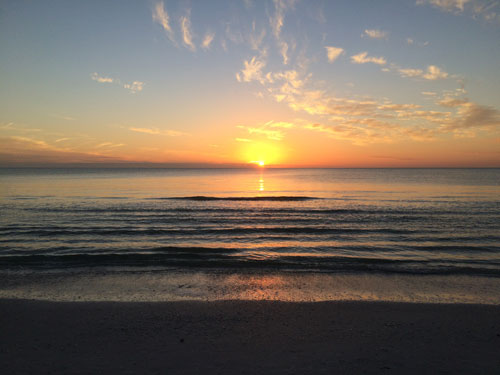 As night fell, we ventured out for dinner at Joey's Pizza & Pasta House, a nearby restaurant on the island that my parents had highly recommended — and they were right!
Sunday. After another delicious buffet breakfast, we took another walk on the beach, this time in the opposite direction toward Cape Marco, where we found lots of interesting shells. We opted to spend the warm, sunny afternoon relaxing by one of the two large pools at the hotel.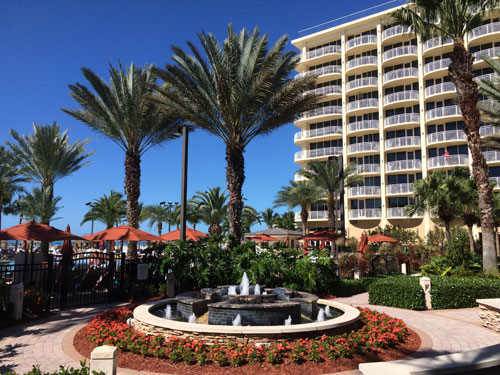 Later, we got dressed up for dinner at Kurrents, yet another restaurant within the resort. Our evening concluded with a walk to Beebe's Ice Cream and watching some of the Grammy Awards on TV.
Monday. On our last full day in Florida, we enjoyed some coffee and breakfast sandwiches at a Starbucks on our way to Naples, where we shopped in the Fifth Street South and Third Street districts. Along the way, we shared mid-afternoon drinks and appetizers at L'Angolo 5th Ave and thoroughly enjoyed an upscale Italian dinner at Vergina (another stellar recommendation from my folks).
Tuesday. Joan and I checked out from the Marriott and drove back to the Fort Myers airport, where we turned in our rental car and waited for our flight home. Surprisingly, we bumped into my coworker Eric and his wife and young son at the airport — they had spent a few days in the Florida sun as well!
When we finally returned to our house, my parents were just walking up to our door with Michael. He seemed to enjoy seeing us during our Skype calls over the previous few days, but when he saw Joan and me in person, I don't think I've ever seen a bigger smile on his face! Naturally, we were thrilled to be reunited with him as well.
[ No. 679 ]
Joan and my friend Paul joined me in going to see Cracker perform at World Cafe Live on a bitterly cold Saturday night in Philadelphia. The show was in support of Berkeley to Bakersfield, the band's 2014 double album that contains one rock and one country disc each.
After a quirky set by frontman David Lowery's other band, Camper Van Beethoven, Cracker put on a terrific show. In fact, they sounded as good (if not better) as the first time I saw them perform at the Trocadero in 2002.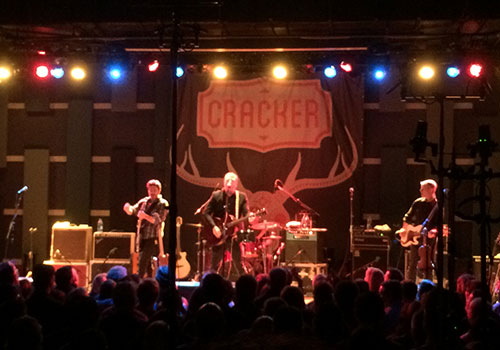 The setlist contained one of my all-time favorites (the hilarious "Mr. Wrong"), eight tracks from their latest release (including the haunting "Almond Grove"), and a blistering jam-band encore:
Torches and Pitchforks*
Dr. Bernice
Hey Bret (You Know What Time It Is)
Almond Grove*
Where Have Those Days Gone*
California Country Boy*
King of Bakersfield*
Low
Teen Angst (What the World Needs Now)
Mr. Wrong
El Comandante*
El Cerrito*
Gimme One More Chance
Beautiful*
Sweet Thistle Pie
St. Cajetan
Encore:
One Fine Day
* New track from Berkeley to Bakersfield
After the show, I even had a chance to meet the band members and get a limited-edition poster signed by them!
More details about the concert are available in an online review by XPN.
[ No. 678 ]
In mid-December, I noticed that the SERVICE ENGINE SOON light had appeared on the dashboard of my 2005 Nissan Altima. After I dropped it off at the dealership for service, they informed me that the car's catalytic converter would need to be replaced before its next inspection was due in April, and the repair would cost over $1,100.
Initially, I just wanted to get the Altima fixed and deal with the decision about a new car in the spring, but thankfully, Joan and my parents all persuaded me into declining the costly repair. So, during my week off after Christmas, I did some research and test-drove a few cars before selecting a blue 2015 Honda Accord EX-L with a gray interior!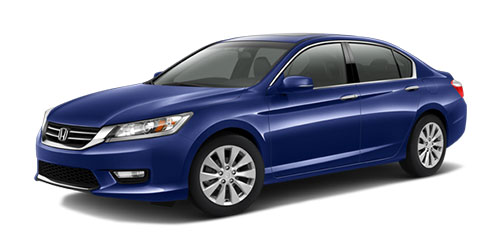 Instead of purchasing the Accord, I opted for a three-year lease in order to prevent taking on additional debt prior to buying a new house (hopefully later this year). And the trade-in for my Altima meant that I could start the lease with no down payment!
My gray Altima was a great car. I still remember the night I bought the Altima in early 2005, and its final odometer reading of 110,788 miles included dozens of trips to the Jersey shore, several ski trips to the Poconos, and even my first date with Joan! I dealt with only one significant mechanical problem in 2007 and only one accident, a frightening collision with a deer, in 2011. The Altima was a reliable, trusty companion for nearly 10 years, and I was a little sad to leave it behind.
However, I also have to admit that it's pretty great to drive a new car for the first time in almost a decade.
[ No. 677 ]
Image credit: Honda
This year, the Christmas season gave us an additional reason to celebrate — the wedding of Joan's dad, Bob, and his fiancée, Cathy!
On Friday afternoon, Joan and I drove up to Bob and Cathy's house in Slatington, Pa., where we joined their extended family for a cocktail party in the evening. Thankfully, Michael slept very soundly overnight, and we all exchanged presents the following morning. By mid-afternoon, Joan and I packed the car and drove Michael to the Country Inn & Suites in nearby Lehighton, where the three of us checked in.
Getting ready for the wedding on the evening of Dec. 27 — including getting Michael dressed in his first rented tuxedo — was a scramble, but we were still among the first to arrive at the Mahoning Valley Country Club. The ceremony was lovely, and Michael performed his duty as ring bearer very well! The reception and dinner immediately followed the ceremony, and the excellent live band provided plenty of opportunities for Michael to dance.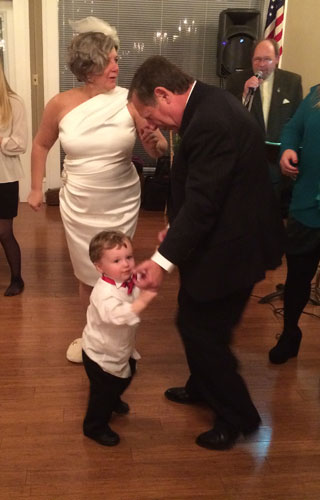 We all slept very well on Saturday night, and made our return home on Sunday after brunch at the hotel. Congratulations to Bob and Cathy!
[ No. 676 ]
Penn State's 2014 football season is over, and it's been a rough one. The Nittany Lions started out with a promising 4–0 record, but lost six of their last eight games to finish 6–6, their worst record since the dark days of 2004.
Thanks to a surprising reduction in NCAA sanctions in September, those six wins make the Lions eligible to play in a bowl game*. However, PSU truly earned its disappointing .500 record by finding new and creative ways to lose winnable games this year. Penn State suffered a surprising 29–6 blowout to Northwestern on homecoming weekend, a heartbreaking 31–24 double-overtime loss to 13th-ranked Ohio State that was marred by horrendous officiating (even with instant replay!), and a narrow 16–14 defeat to Illinois, which had only won 2 of its previous 22 games against Big Ten opponents.
But above all, I'll remember the 2014 season for the debut of the Big Ten's newest two teams, Rutgers and Maryland, both of which made a poor first impression in their games against Penn State this year:
Rutgers. During interviews prior to the game, Rutgers coach Kyle Flood cryptically referred to Penn State as "that team from Pennsylvania." Flood never fully explained why he refused to utter PSU by name (as opposed to his other new opponents in the Big Ten), but his behavior struck me as insecure and disrespectful, especially for someone who should set an example for his players. Even worse, many Scarlet Knights fans brought offensive T-shirts and signs to the game, and Rutgers compounded the problem by posting photos of them on its official Facebook page. The pictures were eventually taken down.
After all of that hostility, I was very satisfied to see Penn State get some revenge on the field with a 13–10 win in front of a record Rutgers home crowd.
Maryland. At the outset of the game at Beaver Stadium, three Terrapins team captains refused to shake hands with their Penn State counterparts: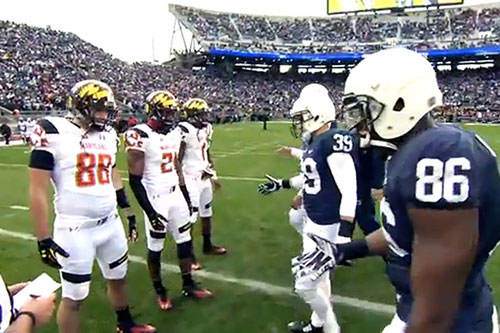 One of those Maryland captains, Stefon Diggs, even shoved a referee during a pre-game skirmish. The handshake stunt resulted in a $10,000 fine for Maryland coach Randy Edsall (who later offered a tepid apology), the shove eventually led to a one-game suspension for Diggs (which should have been an immediate ejection), and both incidents were reprimanded by the Big Ten. But unlike the Rutgers game, Penn State suffered a bitter 20–19 loss to Maryland, thanks to a last-minute field goal.
* * * * *
In the wake of these incidents, the athletic directors from Rutgers and Maryland both issued a apology to Penn State. Honestly, I can't recall the last time that an opposing team needed to formally express regret for its actions, let alone twice in a single season. But since both Rutgers and Maryland are located geographically close to Penn State and seem motivated to spark a rivalry with their new conference neighbor, I can only assume that both programs were quite deliberate in their efforts to "poke the bear" in their matchup against PSU.
Respect must be earned over time, and Rutgers and Maryland have demonstrated that they have a long way to go in that department. But if their goal was to provoke Penn State fans like me, both programs have succeeded in their mission. Rutgers and Maryland have joined the ranks of the few teams that I genuinely hate, and from now on, I hope Penn State soundly defeats them year after year — while maintaining a high level of sportsmanship, of course.
---
* Update: Penn State managed to end their season on a high note in the New Era Pinstripe Bowl, which was played in Yankee Stadium. The Lions came back from a 21–7 deficit in the third quarter and captured a dramatic 31–30 win in overtime against Boston College.
[ No. 675 ]
Image credit: ESPN
Archives
For posts dating back to 2001, please proceed to the Archives section.