You've arrived at monorailmike.com, the personal website of Mike Devine since 2001.
I'm a proud husband and father, a loyal Penn State alumnus, and yes, I once drove the monorails at Walt Disney World. Here's more about me.
What's new?
Apr. 5, 2014
Last Christmas, my parents generously bought us two tickets to see The Phantom of the Opera at the Academy of Music. Neither Joan nor I had ever seen the musical before, so we eagerly looked forward to it.
We dropped off Michael with my parents for the day, then drove into Center City. For lunch, we went to Luke's Lobster, a terrific place on 17th Street that's one of my recent favorites for lunch at work downtown. Joan and I then walked over to the venue for the 2 p.m. matinee, and upon our arrival, found out that our seats were in the front row! (My parents had intended to get us seats close to the front, but judging from their expressions when we later told them about the show, they didn't think the seats were that close.)
The show lived up to its reputation — beautiful music, intricate sets and costumes, and even some special effects that included pyrotechnics! After the show, we took a long, leisurely walk over to Old City for a special dinner at Amada, a Jose Garces restaurant and one of Joan's favorites. The wide assortment of tapas and pitcher of sangria were both delicious!
We arrived home around 8 p.m. to pick up Michael and take him home for a slightly later bedtime than usual. Great day in the city!
[ # 661 | Link ]
Mar. 30, 2014
Our son Michael was born one year ago today. And what a year it has been.
From the very beginning, my wife Joan and I have been overjoyed to have such a beautiful little boy, but the first several weeks of parenthood were pretty overwhelming. We were concerned about his minor case of jaundice (which thankfully cleared up soon after we arrived home from the hospital), exhausted from sleeping for only a few hours at a time, and most of all, anxious about the awesome responsibility of taking care of a brand-new person. I remember using our iPhones to cast a dim light over Michael while he slept in his bassinet, just to make sure that he was still breathing!
When Joan returned to work in early June, Michael started attending day care at Chesterbrook Academy, a wonderful school conveniently located about a half-mile from our house. We were probably more emotional about the transition than he was — Michael seemed to adjust to his new surroundings surprisingly well.
Thankfully, Michael stayed quite healthy as an newborn, but we quickly learned how much flexibility and support we really needed when he did get sick. From a persistent stomach bug in mid-June (and a corresponding weeklong absence from day care) to a frighteningly sudden fever of 103.5°F after his four-month vaccination shots in August, our families were a huge help during those times. Also, my new manager at Comcast was extremely patient and understanding — the ability to work from home or take an unplanned vacation day on short notice is a genuine privilege, and one that I'll always be grateful for.
Parenthood has been challenging for both of us, but we've had a lot of fun with Michael over the past year, too. He made his first trip to Stone Harbor last Memorial Day weekend, and was baptized in mid-August at the same church where Joan and I were married. Later last year, Michael donned his first Halloween costume and celebrated his first Christmas at several gatherings with his extended family.
* * * * *
Joan and I celebrated Michael's first birthday at our house with about 15 relatives. We ordered a large sandwich tray from Our Deli & Meats in Paoli and an adorable barnyard-themed cake from Clay's Creative Corner Bakery in Berwyn. I felt badly for Joan — she was eagerly looking forward to the birthday celebration, but was severely under the weather on the day of the party. Everyone pitched in to help get everything set up and enjoyed watching Michael open his presents and dive into his first slice of birthday cake.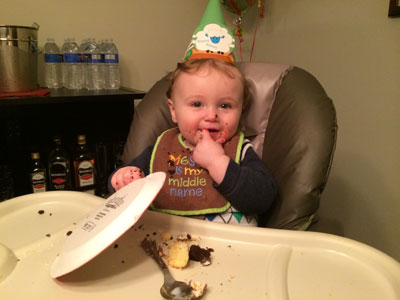 I often tell Michael how lucky we are to have such a healthy and handsome little boy, and I can only imagine what his second year will bring.
[ # 660 | Link ]
Mar. 28, 2014
When I was in my mid-20s, I started my first full-time job as a Web developer at a design agency called Medical Broadcasting Company. I was immediately attracted to its location in a stylish office facing Rittenhouse Square (on the second floor above the present-day Parc), and its dress code consisted of one guideline (no flip-flops, a rule which a few people flouted anyway). Best of all, the company was comprised of about 150 talented, creative people who worked in an exciting new field.
I worked at MBC for a little over two years, and I'm so glad that I took the risk of leaving Vanguard — a genuinely terrific, stable company — to pursue my interest in Web design. In fact, my work at MBC inspired me to practice my new skills by creating this very website in my spare time in early 2001. My job ended abruptly in August 2002 due to a layoff (and that's a story for another day), but I'm still very grateful for the skills that I gained at MBC.
I've stayed in touch with many of my former colleagues through Facebook, and have caught up with a few of them in person over the years. But aside from a poignant gathering in 2008 to honor a colleague who had unexpectedly passed away, I hadn't seen most of the MBC crowd in person since I left the company nearly 12 years ago. Thanks to that Facebook connection, two former employees, Patty and Michelle, took the initiative to organize a reunion, and I was very pleased to be invited.
The event was held on a Friday night after work at the Stratus Lounge, a rooftop bar above the Hotel Monaco in Old City. Many in attendance had worked at MBC or its subsequent incarnation, Digitas Health, long after I had left. But I was pleasantly surprised to see many old friends, some of whom even complimented me on my son's photos on Facebook!
I really enjoyed hearing what everyone has been up to, and genuinely hope that we can get everyone together again soon.
[ # 659 | Link ]
Mar. 15, 2014
Somehow, Joan and I managed to pull off last year's installment of our annual St. Patrick's Day party. We had scheduled it on Mar. 2, four weeks prior to Joan's due date, which turned out to be the exact day of our son's arrival! But we openly wondered if we could continue the tradition after becoming new parents.
Thanks to some advance planning and plenty of help from our families, our eighth annual Irish-themed party was another success. Many of our friends were excited to finally meet Michael, who made a cameo appearance early in the evening. My parents proudly held him and introduced him to guests during the first 1½ hours or so, then took him back to their house for a good night's sleep.
Much like last year, the crowd size was very manageable (about 30 or so), and we were really happy to catch up with so many good friends. And as always, I installed green bulbs in the light fixture above our front balcony, but this time around, a pair of new CFL bulbs looked better than ever.
Our St. Patrick's Day tradition just keeps on going — already looking forward to next March for party No. 9!
[ # 658 | Link ]
Jan. 18, 2014
Along with some help from my friends John and Todd, we threw a fun surprise party for our friend, Jeff Mauriello, to celebrate his 40th birthday.
Jeff was scheduled to be on vacation in Florida on his actual birthday of Jan. 14, so I invited him to meet up with John, Todd, and I for a casual get-together, since we rarely have a chance to meet up in small groups. Jeff asked about inviting others, and I promised that we could do that later in the month. Unbeknownst to him, I was already planning to include a much larger group to join in the festivities.
Thanks to the helpful staff at McKenzie Brew House in Devon, we reserved a group of high-top tables near the bar, and Todd and his wife Chris brought a terrific cannoli cake for the celebration. When Jeff arrived, I escorted him into the bar area, and while he wouldn't fully admit that we got the best of him, I think he was genuinely surprised to see so many friends in attendance.
The food, drinks, and service were all top-notch. Many thanks to McKenzie's for hosting us!
[ # 657 | Link ]
Dec. 24–25, 2013
Christmas is all about spending time with the ones you love, and this year, that includes our son Michael!
Joan's mom came down from Allentown to stay over at our house on Christmas Eve, and we all enjoyed Joan's baked shrimp scampi for dinner. On Christmas morning, we rose early for breakfast (starting with the customary bottle for Michael), and exchanged gifts by the Christmas tree in our living room.
Michael definitely enjoyed tearing up the wrapping paper, and by mid-morning, he learned that opening presents can be exhausting: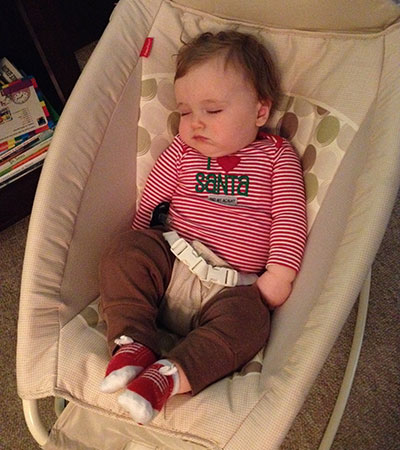 We spent the rest of the day with my family in West Chester. My mom prepared yet another amazing Christmas dinner, and Michael was excited to join us at the dining room table from his highchair. It was so much fun to introduce Michael to our family traditions at Christmas!
[ # 656 | Link ]
Nov. 30, 2013
Just over a week after Laura and Jeremy's wedding in New York, we drove up to Joan's dad's house in Slatington, Pa., for a large celebration with family and friends.
The big bash included dozens of relatives and friends, plenty of great food and drinks, and Joan's mom even ordered a custom cake in the shape of Manhattan City Hall! Naturally, our son attempted to steal the show by dressing up in a formalwear onesie for the happy occasion: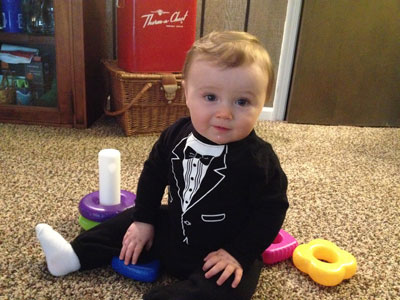 We're so happy for Laura and Jeremy, and we're very grateful to be able to celebrate with them.
[ # 656 | Link ]
Nov. 22, 2013
Joan and I took the day off for a very special occasion — the wedding of her sister Laura and her fiancé Jeremy in New York City!
Having dropped off Michael at my parents' house the night before, we took an early SEPTA Regional Rail train (my usual commute to work) from Devon to 30th Street Station, had a light breakfast at Au Bon Pain, then boarded an Amtrak train to Penn Station in New York. Our cab ride to Manhattan was unexpectedly long due to traffic and construction, and we became increasingly worried about arriving late.
Fortunately, we arrived at the Louis J. Lefkowitz State Office Building with a little time to spare and met up with the group of about 30 relatives and friends. Despite many other couples who were also scheduled to be married that day, we only waited a few minutes before Laura and Jeremy's number was called, and the process was surprisingly well organized.
When the time came, our group entered a spacious reserved room. The ceremony was simple and brief but very touching, and we all cheered for the happy couple!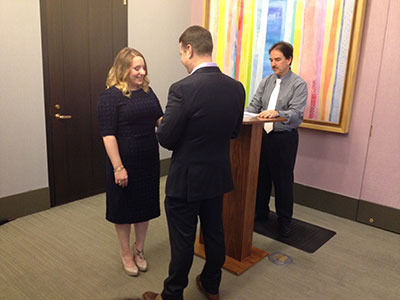 After taking some photos, we had some extra time before the reception, so we all boarded a large, comfortable shuttle bus and rode around the city for about an hour, celebrating with lots of conversation and a few drinks.
The reception at Tribeca Grill (co-owned by Robert De Niro!) was a relaxed, mid-afternoon luncheon, complete with wonderful food and several heartfelt toasts. Joan and I left a little early to take a cab ride back to Penn Station for the train ride home. Since my parents were watching Michael until the following morning, we treated ourselves to some burgers and shakes at the new Shake Shack location across from the King of Prussia Mall before heading home.
Congratulations, Laura and Jeremy!
[ # 654 | Link ]
Oct. 31, 2013
As I turn 39, it's becoming increasingly difficult to ignore the big round number that's coming up next fall. But for now, I'll just focus on enjoying my first birthday as a new father.
For Michael's first Halloween, Joan and I came up with a Charlie Brown costume for him. We wanted to dress him in something recognizable yet comfortable for a seven-month-old. His costume consisted of a yellow onesie, black pants, and brown shoes, and I cut out a black zigzag pattern out of adhesive felt for the trademark Charlie Brown shirt. We also bought a new Snoopy stuffed animal to accompany him!
I opted to work from home in the afternoon, and our families met up at Chesterbrook Academy to get Michael dressed for the day care's Halloween parade, which consisted of a brief outdoor lap around the playground. Michael joined his group, "Infant 1," in one of two large strollers built for four children each, and he seemed to be quite content compared to most of his classmates. Here he is with his trusty sidekick, just after the parade ended:
After the brief procession on an unseasonably warm afternoon, we all came back to our house for an informal dinner, some thoughtful birthday presents for me, and a delicious chocolate birthday cake. It was definitely a birthday like none other!
[ # 653 | Link ]
Oct. 12, 2013
I don't usually write about Penn State football games that I've merely watched on TV, but I'm making an exception for my alma mater's extraordinary game against Michigan this year.
First, let's revisit the last time Penn State played Michigan, back in 2010. In an exciting night game on Halloween weekend, the Nittany Lions won, 41–31, and I'm still grateful to have attended that game in person. It was their third straight victory over the Wolverines, which was a welcome trend after the misery of losing to Michigan nine times in a row between 1997 and 2007. And since Michigan would fall off PSU's schedule in 2011 and 2012, I also enjoyed the fact that Penn State's winning streak would remain intact during the three-year hiatus between the teams.
That last PSU/Michigan game in 2010 took place just over a year before the horrifying Sandusky scandal broke. After the brutal NCAA sanctions were handed down last summer, I expected to see a scholarship-depleted Penn State return to its previous losing ways to Michigan (as well as many other conference foes) when the series resumed in 2013.
Well, things didn't quite turn out that way.
Joan and I brought our son Michael to the Fox and Hound in King of Prussia to meet up with a large group of PSU friends to watch part of the game, and we caught the rest of the game on TV at home. We were excited to see Penn State take a promising 21–10 lead into halftime, but the momentum shifted toward Michigan in the second half and the situation looked pretty bleak.
How bleak? Penn State trailed Michigan, 34–27, with 50 seconds left and no timeouts remaining, and needed to gain 80 yards to just tie the game. Thanks to a phenomenal drive by freshman QB Christian Hackenberg, the Lions did just that — with 23 seconds to spare! Allen Robinson's leaping catch that set up the tying touchdown is simply amazing.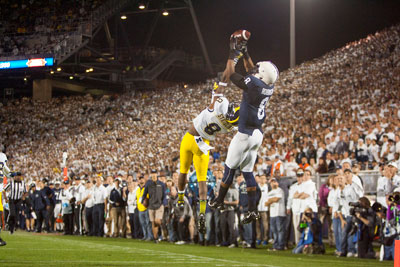 Michigan still managed to attempt a long field goal before regulation but missed. The teams battled through four overtimes, and the Wolverines had two more chances to win the game with a field goal, but one was blocked and they simply missed another one! Thanks to some gutsy play-calling by coach Bill O'Brien in the fourth overtime, Penn State answered Michigan's field goal with a touchdown and finally won, 43–40, sending Beaver Stadium into a frenzy.
I wish I could have seen such a memorable win in person. I'm not sure what was more unlikely — PSU completing an 80-yard drive that knotted the score with less than a minute to go, or Michigan squandering three chances to win the game with a walk-off field goal. Either way, it's exactly the kind of close contest that Michigan usually finds a way to win against PSU (e.g., an overtime loss in 2002 and a last-second defeat in 2005) and many other opponents. So I'll indulge in a little schadenfreude and admit that it's very satisfying to see the Wolverines get a taste of their own medicine for once.
Penn State's quadruple-overtime win over Michigan now stands as the longest game in both PSU and Big Ten history. I have a feeling that we'll be talking about this one for years to come.
[ # 652 | Link ]
Image credit: Michael R. Sisak
Oct. 6, 2013
Less than seven months after seeing Fountains of Wayne with my friend John at World Cafe Live in Wilmington, I was pleased to learn that the band was planning to return to the Philly area for another show. But this time around, they also brought along two terrific opening acts, Evan Dando (of the Lemonheads) and Soul Asylum, and all three would perform at a brand-new venue, The Ardmore Music Hall (the former site of a popular Main Line bar called Brownie's 23 East).
My friend Paul joined me for this show, and we began our Sunday evening with a delicious dinner at Primavera Pizza Kitchen, a stylish Italian restaurant that's housed in a massive former bank building. From there, we walked just two blocks to the new venue, which we both liked immediately. It's an intimate setting for live music with a decent amount of seating, a great drink menu, and even good table service.
We grabbed a high-top table at the back of the seating area and enjoyed all three acts. Evan Dando played a rather subdued set accompanied only by his electric guitar, and some of his deadpan lyrics really cracked us up. Soul Asylum was a pleasant surprise — I only have a copy of Grave Dancers Union from my college days, and that album never really grabbed me. But they joyfully ripped through a raucous set, and I definitely have to revisit some of their music.
Fountains of Wayne put on yet another energetic show, drawing heavily from their latest album, Sky Full of Holes, along with plenty of old favorites.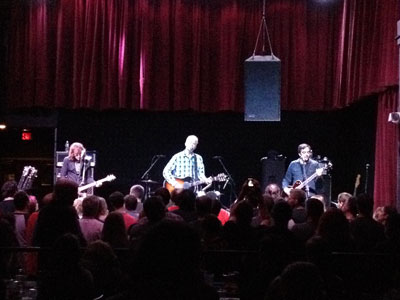 Prior to their performance, I noticed that the merchandise table had some terrific shirts in a good variety of sizes (which happens pretty rarely), so I splurged and bought two of them!
I'm always amused by the improvised one-liners from the band, too. At this show, a fan near the stage raised his hand and made a devil horns gesture during the somber ballad, "Hackensack." In response, lead singer Chris Collingwood quipped, "I think that's the first time ever that someone threw the horns at that song."
Such a great band, and one that doesn't take themselves too seriously.
[ # 651 | Link ]
What's not so new?
Want to read more? Check out the archives!