Archives
Our son Michael has become a big fan of the show Thomas and Friends — the main character of which you might know better as Thomas the Tank Engine. The show's 10-minute episodes are actually quite good among the other programs on the Sprout network. (Michael also likes Caillou, but I've found its main character to be pretty whiny and irritating.)
When Joan and I discovered that there's an actual passenger train in Thomas' exact likeness, we purchased tickets for a Day Out with Thomas event right away!
The event was held at the historic Strasburg Railroad, not far from Lancaster, Pa., and about an hour from our house. Despite some light drizzle throughout the morning, we were able to take an enjoyable 20-minute round-trip ride on both Thomas (pictured below) as well as his green mail-carrying friend, Percy.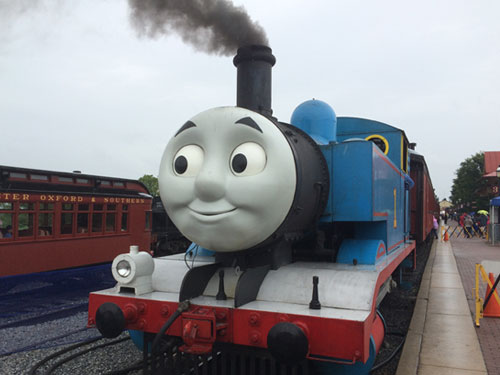 Thankfully, our Day Out experience was very well organized and enjoyable for parents and young kids alike. I doubt that I've ever seen so many strollers parked in one place, and the amount of Thomas-related merchandise under a big-top tent was pretty astounding.
[ No. 683 ]