Archives
For the first time since our Key West trip in 2011, Joan and I embarked on another much-needed winter getaway — this time to Marco Island, Florida!
Thursday. Having dropped off Michael at my parents' house the night before, Joan and I drove to the Philadelphia airport and arrived early enough to enjoy breakfast at Legal Sea Foods. (Seriously, their crabmeat omelette was delicious!) Our flight was quite pleasant, except for some painful pressure in my ears as we descended into Fort Myers.
After we picked up our rental car, a comfortable silver Chevy Impala, Joan and I made one nostalgic stop along the way. I was curious to see the apartment complex where I used to live when I worked for General Electric in 1997. I had never returned to Fort Myers since moving back to the Philly area, and it was strange to see my old place after nearly 18 years. The surrounding area seemed more congested and built-up, but the apartments had been renovated nicely and the complex even sported a new name — what I remember as the Beach Club Apartments is now called Sienna at Vista Lake.
After some heavy traffic out of Fort Myers, we took a break for a late lunch at a Five Guys before finally arriving at the Marco Island Marriott, a beautiful beachfront resort. We checked into our room on the third floor and placed a Skype call to catch up with Michael and my parents. Completely exhausted and slightly under the weather, I took a two-hour evening nap before we ordered a late dinner from room service.
Friday. Joan and I shared a light breakfast at the hotel's San Marco Café coffee shop, then arrived for our scheduled couple's massage, which was wonderfully relaxing. During the afternoon, we took full advantage of our daylong access to the spa, including its private outdoor pool and mineral whirlpool. Later in the evening, we opted for a casual dinner at the aptly named Quinn's on the Beach.
Saturday. We indulged in a terrific breakfast buffet at Tropiks in the hotel, then took a long walk along the pristine beach. We spent the afternoon on chaise lounges on the beach before watching a spectacular sunset over the Gulf of Mexico.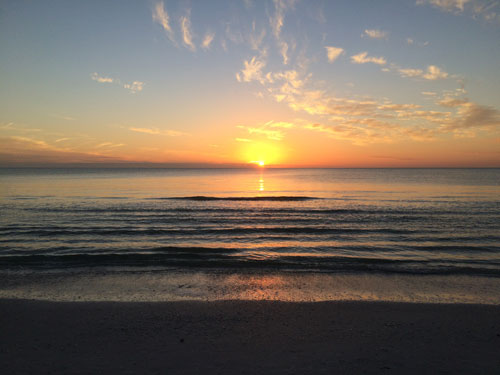 As night fell, we ventured out for dinner at Joey's Pizza & Pasta House, a nearby restaurant on the island that my parents had highly recommended — and they were right!
Sunday. After another delicious buffet breakfast, we took another walk on the beach, this time in the opposite direction toward Cape Marco, where we found lots of interesting shells. We opted to spend the warm, sunny afternoon relaxing by one of the two large pools at the hotel.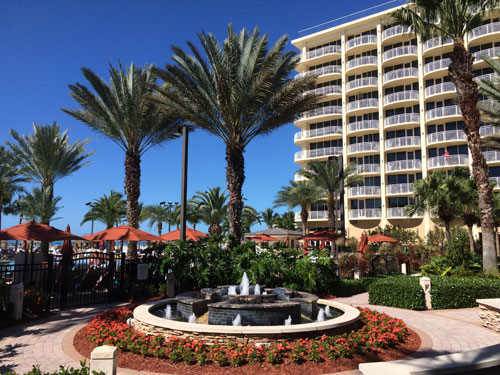 Later, we got dressed up for dinner at Kurrents, yet another restaurant within the resort. Our evening concluded with a walk to Beebe's Ice Cream and watching some of the Grammy Awards on TV.
Monday. On our last full day in Florida, we enjoyed some coffee and breakfast sandwiches at a Starbucks on our way to Naples, where we shopped in the Fifth Street South and Third Street districts. Along the way, we shared mid-afternoon drinks and appetizers at L'Angolo 5th Ave and thoroughly enjoyed an upscale Italian dinner at Vergina (another stellar recommendation from my folks).
Tuesday. Joan and I checked out from the Marriott and drove back to the Fort Myers airport, where we turned in our rental car and waited for our flight home. Surprisingly, we bumped into my coworker Eric and his wife and young son at the airport — they had spent a few days in the Florida sun as well!
When we finally returned to our house, my parents were just walking up to our door with Michael. He seemed to enjoy seeing us during our Skype calls over the previous few days, but when he saw Joan and me in person, I don't think I've ever seen a bigger smile on his face! Naturally, we were thrilled to be reunited with him as well.
[ No. 679 ]