Archives
A few weeks before Steve and Crystal's wedding in Pittsburgh, I realized that my trip along the Pennsylvania Turnpike would pass just 20 miles north of Fallingwater, the famous Frank Lloyd Wright house in rural Mill Run, Pa. I had wanted to visit Fallingwater for many years, so I ordered a ticket for an in-depth tour on the day of my return trip from Pittsburgh.
I gave myself about two hours to complete the 75-mile trip from the newlyweds' house to Fallingwater, but I underestimated the heavy Saturday afternoon traffic as I left Pittsburgh. Despite the gridlock, I still managed to arrive at my destination less than 10 minutes before the scheduled (and more importantly, nonrefundable) 4:30 p.m. tour.
The two-hour tour took our group of nine from the visitor's center on a gravel trail through the woods to a clearing with a fantastic view of the house and the falls of Bear Run beneath it. The tour continued through each room of the majestic structure and up into a separate guest house higher on the hill. It was truly surreal to be standing inside of a building that I had seen in dozens of books and magazines.
During the tour, I learned that Fallingwater was completed in 1937, served as the vacation home of the Edgar J. Kaufmann family of Pittsburgh until 1963, and has been open to the public as a museum under the Western Pennsylvania Conservancy since 1964. Our tour guide also pointed out many priceless works of art and Wright-designed furnishings in the house, and said that the total value of the property and its contents is estimated at $250 million!
[ No. 336 ]
Less than 12 hours after arriving home from a great concert, I hit the road for the wedding of my friend Steve and his fiancée, Crystal, in Pittsburgh.
Thursday. I completed the 300-mile drive along the Pennsylvania Turnpike and I-376, despite feeling frighteningly sleepy about halfway there and getting rather lost once I arrived in town (many thanks to my friend Brian for directing me to the hotel via cell phone). After a quick change of clothes, we attended a brief rehearsal at the church, then enjoyed a very nice dinner at Magoo's. Five of us capped off the evening at Finnigan's Wake, where we enjoyed a few rounds of drinks and mocked the mostly tone-deaf locals singing karaoke.
Friday. We started off the day with a huge lunch at Fat Head's (seriously, check out their menu), then spent most of the afternoon at Steve's parents' house. Everyone was very relaxed, and it was nice to see Steve and his family enjoying such an important day. We made our way to St. Athanasius Church in plenty of time for the 5:30 p.m. wedding. The ceremony was beautiful, and because Steve's uncle was sadly unable to attend due to multiple flight cancellations, I was honored to be asked to fill in for two of the readings.
The reception was held in one of the spacious press lounges at Heinz Field, home of the Steelers. We enjoyed a wonderful dinner, plenty of laughs over the photo slideshows that ran on multiple TV screens around the room, and a scenic view of the Allegheny River as night fell. In fact, we also had the chance to see some fireworks over nearby PNC Park after that night's Pirates game!
Saturday. After a quick breakfast at the hotel, we checked out and drove to Steve and Crystal's house for a small, casual gathering and some lunch — even though the newlyweds were scheduled to leave for their honeymoon the following morning! I needed to leave Pittsburgh a little earlier than everyone else (stay tuned for that story), but it's safe to say that all of us were very happy to be a part of Steve and Crystal's big day.
[ No. 335 ]
Joined my friends Paul, Jeff, Christina, Todd, and Chris at the Trocadero for the long-awaited Fountains of Wayne show.
Last month, I ran into some difficulty when I tried to pick up the FOW tickets at the Troc box office, and a subsequent letter to the box office manager went unanswered. But when I called him a few weeks later, he offered us a round of drinks on the house, and when we met him in person as he was tending the balcony bar before the show, he was true to his word. All's well that ends well!
As for the show itself, Fountains of Wayne sounded better than ever. Paul remarked that their sound at an indoor venue was much more powerful compared to their outdoor gigs, and I agree. The setlist spanned their entire career, and the new material from Traffic and Weather really rocked.
Not surprisingly, our evening with FOW was filled with laughter. I particularly enjoyed bassist Adam Schlesinger's nasal impersonation of Neil Sedaka, with whom they shared a bill earlier in the week — "I have so many hits, I can barely decide which ones to play" and "My songs are like my children; some of them are more neglected than others." (Also, after playing each of his songs, Sedaka would apparently stand perpendicular to the audience, outstretch his arms, and repeat the song title. Equally arrogant and creepy, if you ask me.)
As an added bonus, after the house lights went up, we spotted lead singer Chris Collingwood mingling with a few fans on the venue floor. We said hello, thanked him for a great show, and he graciously posed with us for a group picture (from left to right: Todd, Chris Collingwood, me, and Jeff):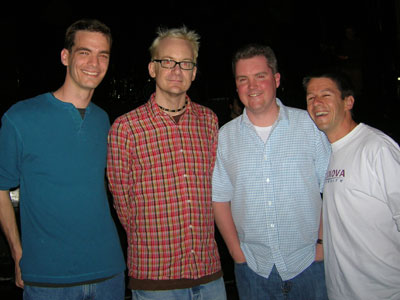 Great evening! I already can't wait until they come back to town.
[ No. 334 ]
Move over, spelling bees — youngsters are now taking part in high-stakes texting competitions.
A 13-year-old girl from central Pennsylvania (and, undoubtedly, a future sufferer of carpal tunnel syndrome) won $25,000 in a national text-off yesterday by typing "supercalifragilisticexpialidocious" in 15 seconds flat. (Really, what other word could have determined the champion?)
As a very occasional texter myself, I marvel that texting has become a sport (although it's more dignified than competitive eating, I suppose). But here's what really troubles me: the champion admitted that she sends over 8,000 messages each month to her loved ones. Eight thousand.
I'll do the math for you — that's roughly 16 text messages per hour, 16 hours per day (assuming she actually sleeps), every blessed day of the month.
Kids these days. Go outside and play in the yard, will you?
[ No. 333 ]
As if the Phillies haven't already embarrassed themselves enough by starting their highly anticipated season with a 3–9 record (their worst start in 10 years), their manager, Charlie Manuel, has only added to the humiliation.
Following their 8–1 loss to the Mets last night, a reporter suggested to Manuel that he should launch into a clubhouse tirade in order to spark his struggling team. In response, Manuel challenged him to a fight, and his assistant coaches actually had to restrain him from assaulting the reporter in the clubhouse.
Granted, that reporter was the loathsome know-it-all Howard Eskin, and most people in Philly probably wouldn't mind taking a swing at him. But Chuck shouldn't waste his time or energy by stooping to Eskin's level. There are 150 games left in this young baseball season, and for the Phillies to have any chance at reaching the playoffs for the first time in 14 years, their skipper needs to keep his head in the game — literally.
[ No. 332 ]
University of Texas, 1966: 15 killed by a university student and ex-Marine.
Columbine High School, 1999: 13 killed by two high school seniors.
And now, Virginia Tech, 2007: an unprecedented 32 killed by a VT student.
These are three of the deadliest mass shootings in U.S. history. They occurred over the course of 40 years and in very different parts of the country. But they have one troubling thing in common: each of these massacres took place in schools, a place where children and young adults should feel the safest.
It's neither practical nor possible to operate every American school under lockdown — students can't learn and grow in an environment where they're treated like prisoners. But we simply must do more to protect our kids. I don't really have a specific answer, but gun control seems like a reasonable place to start. (Countries with stricter gun laws don't seem to endure this madness on a regular basis. There must be a correlation, right?)
The bloggers that run Every Day Should Be Saturday took a respectful break from their usual college sports–related humor to eloquently summarize the complete senselessness of this tragedy:
For a sanctum like [Virginia Tech] to be the scene of something so horrifying makes the crime so much more perverse to me…even if I say I understand how unsafe every square foot of this planet truly is. I evidently don't really understand that.
Neither do I.
[ No. 331 ]
There's plenty of convincing evidence to suggest that global warming is a genuine, serious threat to our environment. But still, it's a little hard to accept that Earth is getting warmer when, on a mid-April morning, I discover that my backyard is lightly coated with snow: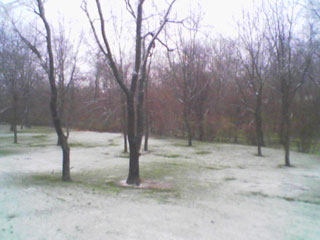 Memorial Day is just six weeks away, right? Maybe I should pack an ice scraper along with my beach chair.
[ No. 330 ]
I've said this many times before, but Philadelphia sports teams are apparently incapable of doing anything right.
Less than three months after shortstop Jimmy Rollins boldly proclaimed that the Phillies were "the team to beat" in their division this year, the Phils have kicked off their highly anticipated 2007 campaign with a red-hot 2–6 start.
Overall, the 76ers have had a pretty miserable season, but they've won just enough late-season games (15 of their last 22) to probably lose a good lottery pick but still miss the NBA playoffs.
Three words summarize the Flyers' year: Worst. Team. Ever. And I mean that literally — they had never finished a season with more losses (48 in 82 games) since the franchise was founded in 1967. Plus, the Flyers posted just 10 victories at home this year, which means that I personally witnessed 10% of their home wins by attending one game.
That leaves the dormant Eagles, and no news is good news. But God help you if you launch into a boisterous "E-A-G-L-E-S" chant within earshot of me before the Birds' preseason opener on Aug. 13. (To quote the one and only Jack Bauer: you do not want to try me.)
[ No. 329 ]
Here's my new favorite slogan, which I found in a brochure for Java City, a premium coffee service in our office building:
FROM OUR BURRO TO YOUR BOROUGH
(Check out the logo for the full effect.)
Clever use of homophones, if you ask me. But then again, this is the 21st century — do they still use a donkey to gather coffee beans?
[ No. 328 ]
First of all, I promise this is not an April Fool's joke.
Armed with a free admission ticket that I'd picked up at our neighborhood pizza shop, I stopped by the Valley Forge Home Show for an hour or so. The event was a total madhouse, complete with hundreds of exhibits and thousands of slow-walking people clogging nearly every aisle. (I knew I should have made the trip earlier in the day to beat the crowds.)
Anyway, one particular exhibit caught my eye. I wasn't really interested in the windows and vinyl siding that they were promoting, but I couldn't help staring at two glaring typos that flashed across the exhibit's red LED message board:
FREE ESTAMATES
0 EQUATY NEEDED
There's nothing like a few spelling errors in your sales pitch to underscore the quality of your products. (Maybe the home show should have included a booth sponsored by Merriam-Webster, too.)
[ No. 327 ]