Archives
Sights and sounds from my first Penn State football weekend with Joan, my beloved fellow Nittany Lion:
Toward the end of our three-hour drive to State College, I gradually passed a local police pickup truck that was traveling along Route 322 right around the posted 55 mph speed limit. Naturally, he pulled me over and wrote me a $109 ticket (my first in over six years). I'll admit that it was dumb to pass a cop, but the officer could have spared me some of his unbearable attitude.
After several years of staying at the local Super 8 (a.k.a. the "So-So Ocho"), we opted for the nearby Quality Inn this time around. Turned out to be a good call; the hotel was definitely an improvement for the same price.
In addition to my friends Marc, Steve, and Brian (old friends from my major at Penn State), my group of friends from the local PSU alumni chapter and Joan's family were all in town for the game, too! So, we all met in our hotel parking lot on Saturday morning, then organized a surprisingly easy multi-vehicle caravan to the tailgating lots north of Park Avenue. We enjoyed about six hours of excellent grilled food, delicious snacks, and cold beverages under blue skies, which is a wonderful way to spend a Saturday.
After a highly successful mega-tailgate, we filed into Beaver Stadium for the 3:30

p.m.

kickoff against Temple. Penn State's young squad trailed the determined Owls early, and their anemic offense opted for field goals for most of the game. However, thanks to a stronger second-half defensive effort, the Lions were fortunate to escape with a 22–13 victory.
Our post-game evening included our traditional visits to the Tavern for dinner and the Rathskeller for late-night beers. The majority of our group called it a night earlier than us, but Joan and I managed to flag down a taxi shuttle back to the hotel. Based on our pick-up location, our driver referred to us over his radio as "two from Arby's." I suppose other passengers have been called worse.
On Sunday, we were disappointed by a 90-minute wait for the Waffle Shop across from the Quality Inn, so we returned to Perkins for breakfast. Joan and I spent the afternoon walking around the downtown area and campus, including stops by the new Creamery and campus bookstore, before heading home on late Sunday afternoon.
[ No. 585 ]
Tony Auth recently published the most painfully accurate (not to mention hilarious) political cartoon in recent memory: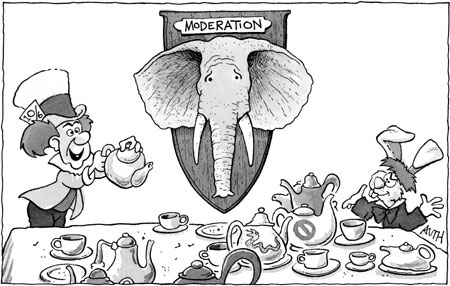 The cartoon is particularly fitting in the wake of the stunning victory of Tea Party favorite Christine O'Donnell over GOP veteran Mike Castle this past Tuesday in the Delaware primary race for the U.S. Senate. Unlike Castle, who has provided the First State with thoughtful, balanced leadership for decades (the very "moderation" symbolized in the cartoon above), O'Donnell is nothing short of a right-wing extremist with no relevant experience.
Politics aside, her deeply flawed background is even more troubling. According to a lengthy News Journal article from Mar. 20, 2010, O'Donnell hasn't exactly been the most responsible citizen over the last several years. Her transgressions include thousands of dollars in campaign debt, a lien from the IRS for unpaid income taxes, a long-delayed bachelor's degree due to unpaid student loans, a home foreclosure in 2008, and even several complaints about the condition of her home's property. She also dishonestly implied her acceptance into a master's program during her unsuccessful $6.9 million lawsuit against a former employer for gender discrimination.
Sure, no one's perfect, but anyone with that many skeletons in her closet simply does not belong in the U.S. Senate. And while we desperately need more Republican and Democratic candidates who aren't afraid to question the status quo of their respective parties, the surging Tea Party is anathema to anything even resembling moderation or compromise.
And believe it or not, I briefly met Christine in person through friends a few years ago, long before her surprising rise to fame this month. Over late-night drinks on the outdoor deck at the Whitebrier in Avalon, N.J., she responded to my offhand comment that I liked the movie Sideways by shouting, "Oh, your stock just went way down!" and sticking a thumbs-down gesture in my face. After that bizarre and unprovoked outburst, she proceeded to throw a fit at her visiting friend and eventually ditched her for the rest of the evening.
Christine O'Donnell is a financial train wreck with a sketchy employment history, plain and simple. And based on my own brief personal experience with her, she's not emotionally stable, either. If O'Donnell and her fellow Tea Party lunatics represent the future of our government, then God help us all.
[ No. 584 ]
Image credit: Tony Auth / The Philadelphia Inquirer
It's been an interesting and eventful off-season for the Big Ten. In mid-June, Nebraska was approved as the 12th member of the conference starting in 2011, and the Big Ten will be split into two divisions and will host a conference championship game at the end of each season.
The changes aren't nearly as satisfying as a maddeningly elusive playoff system for all of FBS (i.e., Division I-A) football might be, but at least the Big Ten has caught up to other conferences with a true championship game. And thanks to realignments elsewhere, the Big Ten will eventually have 12 teams while the Big 12 will be comprised of 10 teams — figure that one out.
Now that the 2010 season is officially underway, I'd like to salute Rob Bolden, the first true freshman to start at quarterback in a Penn State season opener during Joe Paterno's 45-year tenure as head coach. Bolden played surprisingly well in the Lions' 44–14 win over Youngstown State, completing 20 of 29 passes for 239 yards and a touchdown. Admittedly, it's only one game against an opponent from a less competitive division, but a solid start by a true freshman is very encouraging indeed.
[ No. 583 ]