Archives
Our son Michael is now officially a member of the Catholic Church.
On the day before his baptism, Michael's godparents, Joan's sister Laura and her fiancé Jeremy, came down from Brooklyn to stay with us. We enjoyed a relaxing Saturday afternoon together chatting around the dining room table, then went out for a casual dinner along with Michael at Christopher's in Wayne.
The morning of Michael's baptism ceremony turned out to be a carbon copy of our wedding day — comfortable with plenty of sunshine and blue skies. Fr. Carl Braschoss presided over the 11 a.m. Mass at St. Norbert, the same church where Joan and I were married last year.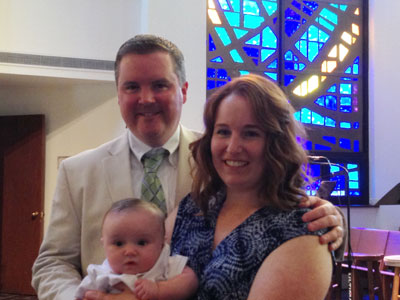 Michael behaved quite well throughout the hour-long liturgy and was baptized along with one other child — a one-year-old named Hunter, who happened to share the last name as my mom's maiden name!
After the Mass, we drove to the Desmond Hotel in nearby Malvern, where we had booked the Terrace Room on the third floor for a luncheon with about 25 relatives and friends. The event got off to a slow start, since only one server had to do almost all of the work (but did a great job under the circumstances). Still, our families and close friends enjoyed the Sunday afternoon gathering over a delicious meal.
Congratulations, Michael!
[ No. 647 ]