Archives
Christmas is all about spending time with the ones you love, and this year, that includes our son Michael!
Joan's mom came down from Allentown to stay over at our house on Christmas Eve, and we all enjoyed Joan's baked shrimp scampi for dinner. On Christmas morning, we rose early for breakfast (starting with the customary bottle for Michael), and exchanged gifts by the Christmas tree in our living room.
Michael definitely enjoyed tearing up the wrapping paper, and by mid-morning, he learned that opening presents can be exhausting: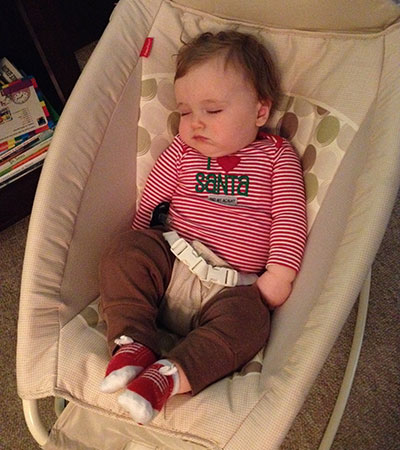 We spent the rest of the day with my family in West Chester. My mom prepared yet another amazing Christmas dinner, and Michael was excited to join us at the dining room table from his highchair. It was so much fun to introduce Michael to our family traditions at Christmas!
[ No. 656 ]